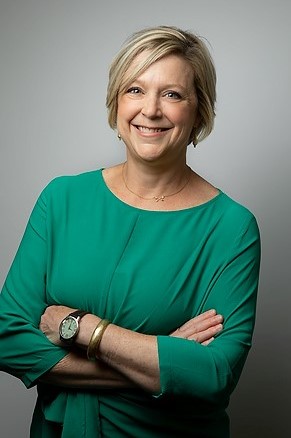 Jennifer Moffatt, BA
Senior Director of Communications
Jennifer joined Cascadia in November 2017 as Senior Director of Communications. She defines and leads Cascadia's external communications and internal communications, including brand, marketing, and advocacy work.
Prior to coming to Cascadia, Jennifer established Brigit Communications Collective – an Oregon certified women-owned business. Through her role, she developed strategic communications, marketing, and public relations activities for arts, nonprofits, healthcare, and small businesses.
Preceding her work as a business owner, Jennifer was Director of Customer & Corporate Communications at PacifiCorp for nearly 20 years where she was responsible for customer and employee communications strategy development and implementation. In addition, she was responsible for brand management for the PacifiCorp businesses, Pacific Power and Rocky Mountain Power and led the re-branding efforts associated with the acquisition by Berkshire Hathaway. Along with her team, Jennifer developed key company campaigns addressing the 2001 energy crisis, energy use behavioral change campaigns, programs such as Blue Sky renewable energy, and community outreach such as the Rose Festival Court Mentor program.
Jennifer began her career in advertising serving as an account executive to clients such as McDonald's and U.S. Bank.
A native of Indianapolis, Jennifer earned a Bachelor of Arts degree in Telecommunications and Psychology from Indiana University, Bloomington. She is a graduate of the Portland Business Alliance Leadership Portland program, an adjunct professor of Public Relations at Linfield College, and completed a fellowship through the Social Venture Partners/Encore Fellows program in 2018.
Jennifer lives in Northeast Portland with her partner Mark. They have four adult children, a parakeet and the sweetest dog in town.