October 18, 2019
Attend Cascadia's Personal Care Assistant Recruitment Fair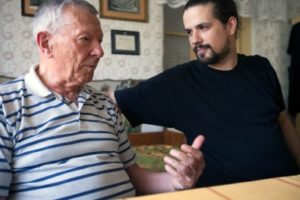 Personal Care Assistants, also known as caregivers, home health or personal care aides, give assistance to people who are sick, injured, mentally or physically disabled, elderly or otherwise vulnerable and in need of assistance. They work in the home and help their clients with daily activities, such as bathing and bathroom functions, feeding, grooming, taking medication, and some housework. Additionally, they can also help clients make and keep appointments with doctors, provide or arrange transportation, make and serve meals, make sure they take their medicine and serve as a companion for their clients.
Personal Care Assistants are working with individual clients within their homes, so typically these roles provide flexible schedules and the ability to choose a working location and amount of hours that are convenient for you. This flexibility makes the role ideal for students, part-time workers, and other individuals looking to gain additional work experience and earn more money.
Although being a Personal Care Assistant provides a flexible part-time job, there are also robust opportunities for career growth and advancement. Personal Care Assistants are eligible for on the job trainings that can allow a widened skill set and increased pay range. Additionally, Personal Care Assistant work is an excellent launch pad for other careers in the healthcare field, such as a Community Health Worker or Job Coach.
On Tuesday, October 29th, Cascadia Behavioral Healthcare is co-sponsoring a Personal Care Assistant Recruitment Fair where individuals can learn more about this work. The event will cover work opportunities in the field, wages, health and retirement benefits, and potential career paths.
You should attend the Personal Care Assistant Recruitment Fair if you are:
Interested in a flexible, self-driven work schedule
A current home care and/or personal support workers looking to expand into additional caregiving populations
Someone with care giving experience looking to learn more about the current caregiving landscape and work opportunities
Someone without experience but interest in becoming a caregiver
For further information and to register, visit our Eventbrite page.