September 9, 2021
Cascadia Hires New Chief Medical Officer, Bukhosi Dube, MD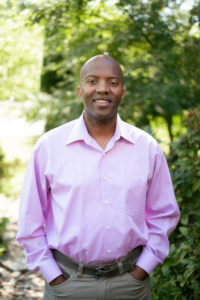 Cascadia Behavioral Healthcare has hired a new Chief Medical Officer, Bukhosi Dube, MD. Dr. Dube will provide medical leadership and direction of Cascadia's integrated health care services spanning mental health, addiction, and primary care.
Dr. Dube is an internist, hospitalist, and primary care physician with more than 10 years of experience in internal medicine, intensive care, health policy, and public health. He most recently served as both a senior health advisor at the Oregon Health Authority and a primary care doctor for the Multnomah County Health Department.
"I'm excited to join Cascadia and further its mission of integrated health care," Dr. Dube said. "I've seen firsthand the positive impact integrated health care can have on community members. I look forward to expanding Cascadia's integrated health care services with the goal of improving outcomes in our community."
Born and raised in Zimbabwe, Dr. Dube has had a passion for medicine since he was a child. Starting at age 12, Dr. Dube volunteered at a local government hospital in the midst of a significant HIV/AIDS pandemic, where he was deeply affected by the bonds he made with patients. Dr. Dube realized at a young age that working in medicine was a way to provide comfort and support to vulnerable community members.
Dr. Dube earned his medical degree from the University of Utah School of Medicine and did his internal medicine residency at UCLA Olive View Medical Center. He then moved to Oregon in 2011. He has worked as a hospitalist for both Northwest Permanente and Legacy Health.
In 2020, Dr. Dube joined Multnomah County to serve as a primary care physician at a Federally Qualified Health Center. Not long after, he also joined Oregon Health Authority to work as a senior health advisor for the COVID-19 Response and Recovery Unit, where he's served a crucial role in guiding the state's pandemic response and reopening plan.
Dr. Dube also hosts the radio show and podcast "Ask a Black Doctor" with local radio station The Numberz FM, where he answers questions about the COVID-19 pandemic with the goal of dispelling myths and addressing community concerns for Portland's Black community.
"I'm thrilled to welcome Dr. Bukhosi Dube to the Cascadia team," said Cascadia Behavioral Healthcare President & CEO Derald Walker, PhD. "Dr. Dube's experience as a physician, policy adviser and community advocate make him a wonderful asset to our team. And, his focuses on integrated medicine and equity in health care align with Cascadia's vision of whole health care."