March 26, 2021
Courage and Compassion Awards: Kim James, Clinical Director of Homeless & Housing Supports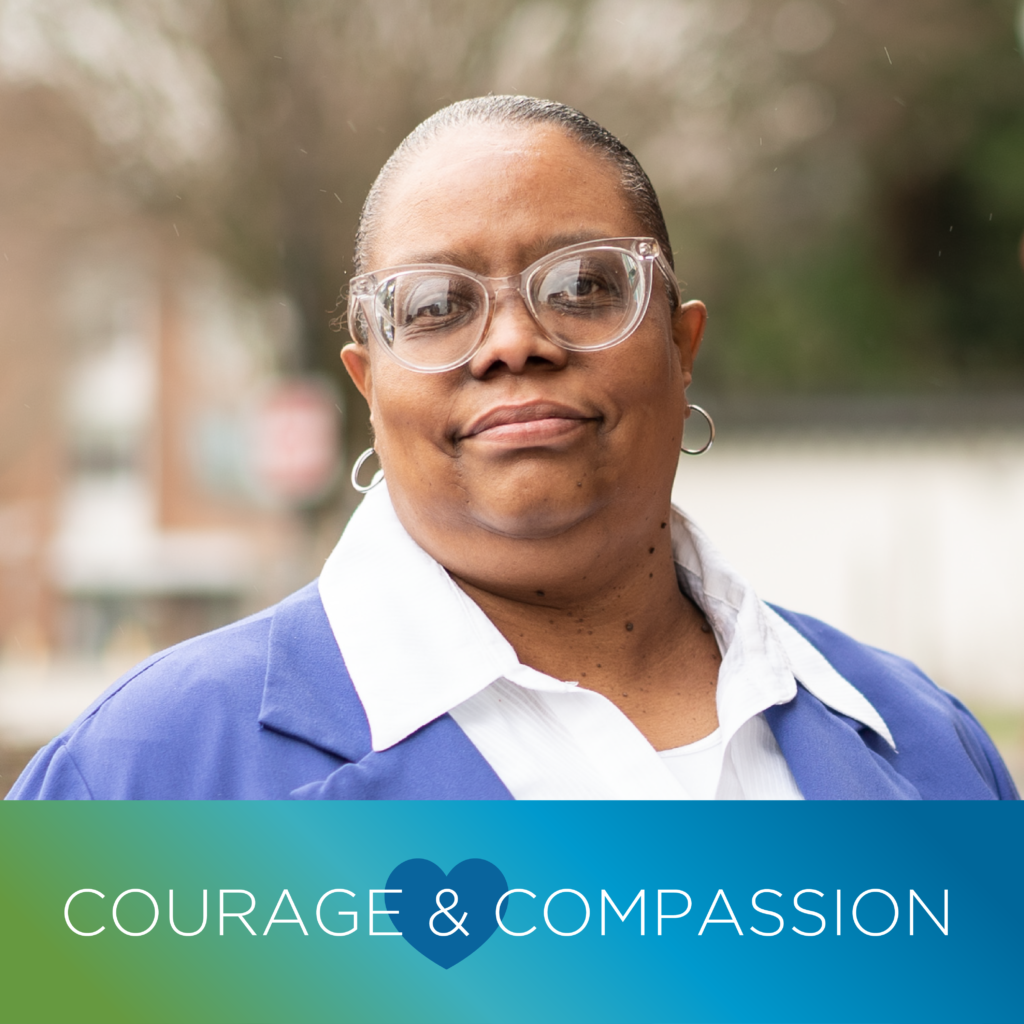 Kim James, Cascadia's Director of Homeless & Housing Supports, has always been crucial to Cascadia's connection and presence in the community, but this past year, her work was truly life-saving. James has been straddling two roles since stepping into her director position and throughout the pandemic, has remained actively involved in the day to day operations and support of the Street Outreach Team, which supports our houseless community members.
For James, compassion is an essential ingredient in her work. "The word compassion can be defined in so many ways," said James. "For me, compassion means to suffer together. It refers to both an understanding of another's pain, and having the desire to help mitigate that pain. That's what I use every day to walk alongside individuals who may be in crisis or suffering greatly."
When the COVID-19 pandemic hit, our houseless community was left especially vulnerable, and James was committed to ensuring they had information, support, and resources to stay safe and healthy – this included continued in-person outreach throughout the pandemic. Additionally, James spearheaded vaccination efforts for 100 houseless community members and continues to lead vaccine outreach among this population.
"Kim does not say no to requests for help or support and is always willing to step in where she might be needed or where she might be helpful," said Katherine Moore, Senior Director of Community Support Services.
2020 has brought a host of challenges to James and her team, but she has approached the work with a positive, can-do attitude. From a global pandemic, to winter weather, to disaster planning for floods and wildfires, Kim always keeps those experiencing homelessness and the staff doing this work in the forefront and ensures no one is left behind.
"I am humbled and honored to be recognized with this group of amazing women," said James. "I like to consider myself a supporter and an advocate for those who are facing difficulty, but I am nothing without my team. I need to share this honor with the entire team."
James is a woman of courage and compassion, and one who puts those words into practice every day in her work. "Kim is one of my real heroes," said Moore. "I am constantly in awe of Kim's dedication to supporting her team, colleagues, and partners."
Looking ahead to the challenges we'll continue to face this year, James remains hopeful and committed to Cascadia's mission of building a whole community: "It is my hope that we can all remain connected to our mission of keeping, supporting, and inspiring one another as we move forward."