October 8, 2020
National Depression Screening Day: Depression 101 with Dr. Falk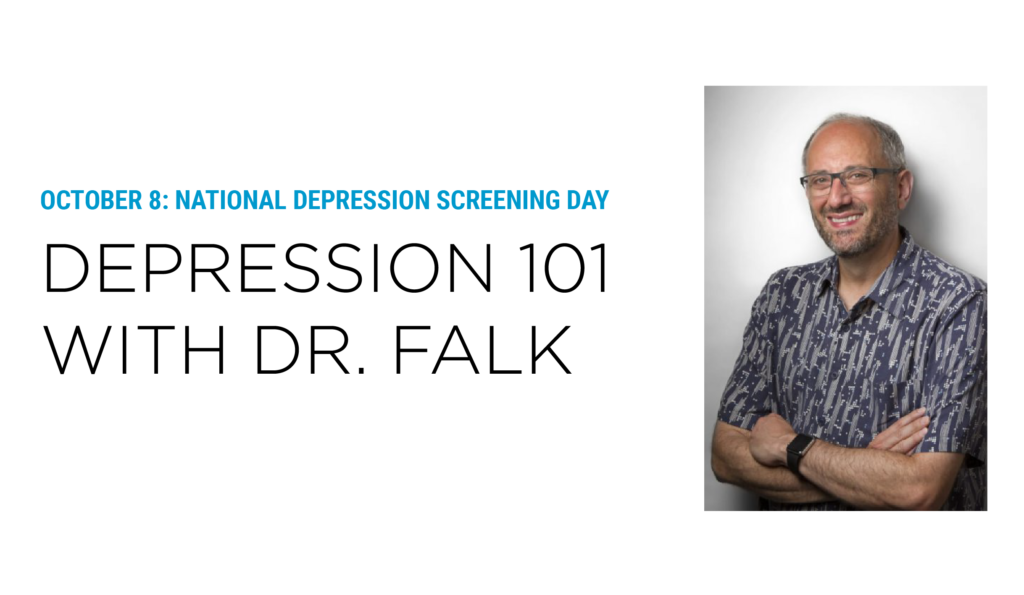 Today, October 8, is National Depression Screening Day. Dr. Neil Falk, Cascadia's Program Medical Director is providing a quick introduction to depression.
Clinical depression affects at least 10% of US adults every year (disproportionally affecting women and Black and Latinx Americans), and at least 21% of Americans during their lifetime, however only about 30% of people with clinical depression seek treatment.
Being the leading cause of disability in the US for individuals 15-44 years old, the impact of clinical depression costs the US economy over $210 billion per year and can be deadly, leading to suicide attempts or the neglect of physical health issues. In 2018 alone, suicide led to over 48,000 deaths in the US, which is two and a half times more death than caused by homicide.
What We Can Do
Depression is highly responsive to treatment, with 80% of people showing improvement within four to six weeks. Mental Health America's (MHA) Depression Screening can provide a quick and easy way for people, especially those who might not otherwise seek professional medical advice, to spot the first signs of depression. It is not a diagnosis, but it can be a helpful tool for starting a conversation with a doctor or loved one.
You can also lookout for signs of depression in your friends and loved ones. Common depression symptoms include:
Sadness
Loss of interest in activities
Social withdrawal
Appetite increase/decrease with weight gain/loss
Increased/decreased sleep
Decrease in attention to hygiene
Physical slowing/low energy
Physical pain
Difficulty concentrating/poor memory
Feeling helpless/hopeless/worthless
Thoughts of suicide
How to help someone with depression ​​​​​​​
Encourage them to talk about it, and to consider seeking professional help, if appropriate.
Encourage daily physical activity. 30 minutes of low impact activity every day, such as walking, can significantly improve mood.
Help them to stop using alcohol or other substances. This can help restore the brain's natural ability to fight depression.
Don't fear talking about suicidal thoughts. Talking about it does not increase the risk of a suicide attempt, and can help keep the person safe.
If you would like to learn more about depression, we encourage you to attend the upcoming Diagnosis Training on depressive disorders. In this training, you will learn more about the diagnostic criteria for major disorders in various topic areas, review how the disorders are similar and how they differ, review the differential diagnosis of the disorders, and how to discriminate between them to arrive at an accurate diagnosis. Register today via Eventbrite.