July 15, 2022
Introducing Our New Name: Cascadia Health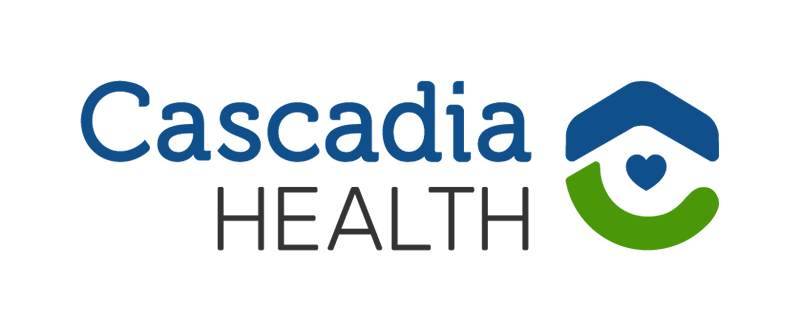 New name emphasizes focus on integrated health care
As part of an ongoing effort to offer truly integrated health care services, Cascadia Behavioral Healthcare is changing its name to Cascadia Health on July 18, 2022.
Cascadia is on a long journey toward providing integrated care for each of our clients as part of our "Whole Health Care" mission. All Cascadia clients are able to receive care from a team of clinicians who support the whole person by providing mental health care, addiction treatment, primary care, and housing supports, along with supported employment, wellness services, and more.
"Our new name reflects our mission: Providing health care that supports the whole person," said Derald Walker, Cascadia Health's President and CEO. "More and more, it is clear that behavioral health is inextricable from other aspects of health. Our integrated services, and our new name, reflect that fact."
Cascadia will continue to focus on serving clients with behavioral health challenges. And as Oregon's largest provider of community mental health services, Cascadia will continue to be a regional leader in behavioral health care.
"The heart of Cascadia's work will continue to be supporting individuals in our community who are facing obstacles like mental health challenges, addiction, and homelessness," Walker said. "Our integrated services aim to support our clients through any challenges they might be facing and help them on their path to recovery."
The name change does not correspond to any changes to Cascadia's services, mission, or leadership, and it and does not signal a lessened focus on behavioral health care; it instead emphasizes Cascadia's ongoing focus on providing integrated care that treats and supports the whole person.
This name change, while subtle, will allow Cascadia to continue its work in community behavioral health and to present itself as a truly integrated provider providing whole health care, well-being, and a self-directed, connected life.
Our Journey to Integrated Care
Cascadia's whole health care mission is driven by the fact that people with severe and persistent mental illness die on average 20-30 years sooner than people without mental illness. Crucially, research shows that these individuals' deaths are not typically due to mental illness, but to other health problems that haven't adequately been treated.
This is why Cascadia believes an integrated care model that incorporates mental health care, addiction services, primary care, and housing supports is the best way to serve our clients.
"Many Cascadia clients live with complex physical health issues, often compounded by mental health challenges and addiction," said Bukhosi Dube, M.D., Cascadia's Chief Medical Officer. "Our integrated services support our clients in all aspects of their health and life."
Since its founding in 2002, Cascadia has been on a journey to provide integrated care for our clients and community.
Timeline:
2002 – Cascadia is created and designated as a Community Behavioral Health Center.
2012 – Organization earns a SAMHSA grant to develop primary care programming serve to individuals experiencing homelessness at our Woodland Park Health Center.
2017 – Cascadia is designated as a Certified Community Behavioral Health Clinic.
2021 – Cascadia's Woodland Park and Garlington health centers are designated as Federally Qualified Health Centers. Cascadia is planning FQHC designation and more services for our Plaza and Clackamas health centers and other locations.
New Logo
In addition to the new name, Cascadia Health is unveiling its new logo. Incorporating the same color scheme and graphic elements from its previous logo, the logo represents Cascadia's focus on health, housing, and community.