November 12, 2021
Representatives from South African NGO Join Cascadia Peer Wellness Specialist Training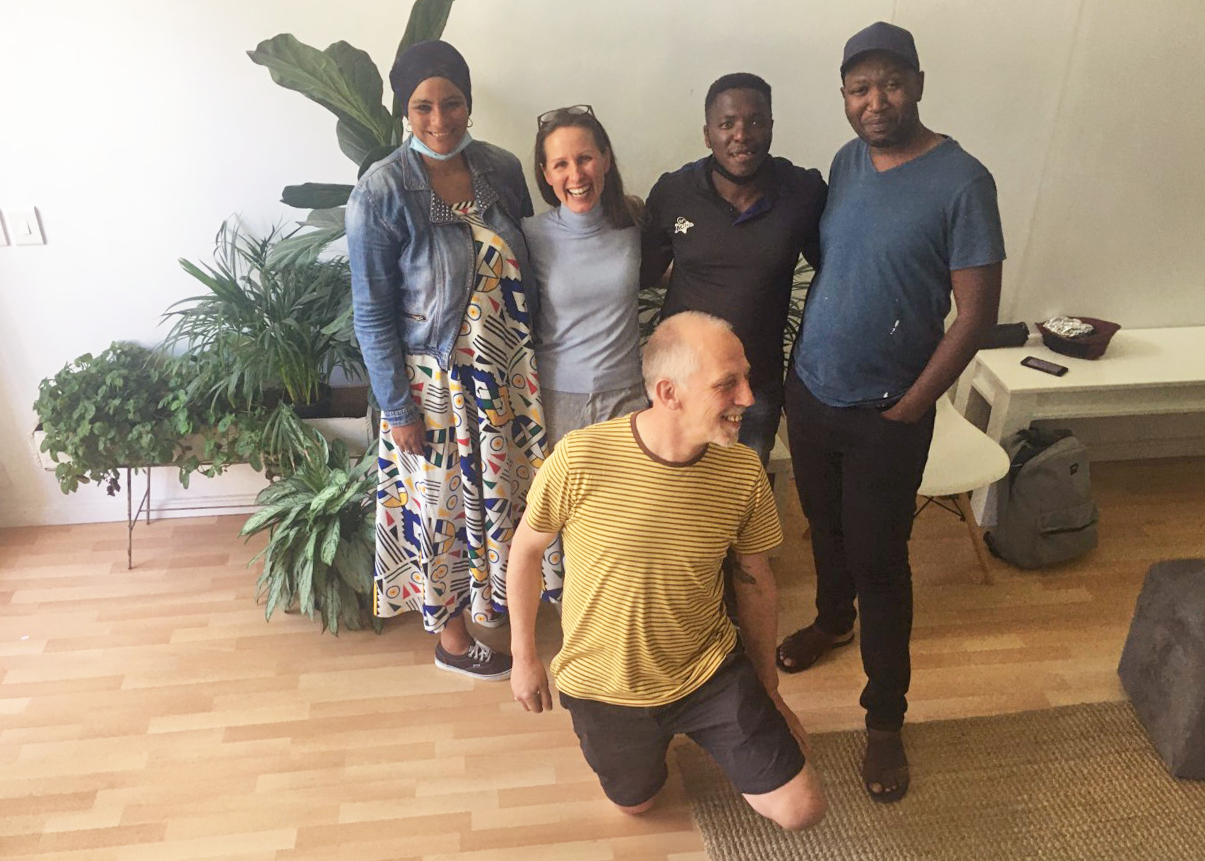 Several students from the Cape Town cohort of the current Peer Wellness Specialist Training. Jesse Laitinen (second from left) connected with Cascadia to start the partnership.
For the first time, Cascadia's Peer Wellness Specialist Training has gone international. Eight trainees from Cape Town, South Africa, are currently enrolled in Cascadia's Peer Wellness Specialist Training, alongside local students.
The Cape Town-based trainees represent Streetscapes, a program that's part of the larger South African NGO Khulisa Social Solutions. Streetscapes provides supported employment, psychosocial support, and housing to people experiencing homelessness in Cape Town.
Cascadia's Peer Wellness Specialist Training is an intensive program that teaches students to use their lived experience to provide advocacy and support for other individuals with similar challenges. Peer Wellness Specialists promote engagement in therapeutic and wellness activities, both of which help participants reach their goals. Since the onset of the COVID-19 pandemic, the trainings have been held virtually.
While peer specialist training programs are offered internationally, Cascadia's is more intensive than most, and it includes a greater focus on integrated health care, mindfulness, and self-care than most other training programs.
Jesse Laitinen, the founder of the Streetscapes program, said that she'd been interested in providing peer services at Streetscapes for some time. Initially, she was most interested in the benefits it could provide for clients living with substance abuse disorders.
"It's very difficult for someone who hasn't experienced an addiction to assist someone [who has]," Laitinen said. She said that peer specialists would also be able to spend more time with clients than other employees, which in turn would lead to more success for the clients.
But before finding Cascadia, the peer specialist trainings she'd researched weren't good fits. "I couldn't find any good training programs in South Africa," Laitinen said.
Laitinen found Cascadia's program largely through coincidence. Khulisa Social Solutions partners with the IPSL Institute for Global Learning, a Portland-based organization that offers international service learning and research opportunities to students.
Laitinen was talking to the director of IPSL about her desire to incorporate a peer program, and he happened to know someone who worked at Cascadia. Through this connection, Laitinen got in touch with Katherine Moore, Cascadia's Senior Director of Community Services.
Laitinen then learned more about Cascadia's Peer Wellness Program and connected with Meghan Caughey, Cascadia's Senior Director of Peer Wellness, who designed Cascadia's Peer Wellness Specialist Program and leads the trainings. Laitinen was interested in the approaches used in Cascadia's peer specialist training.
"What I loved about it was the strong rights-based approach, as well as the mindfulness that went with it," Laitinen said.
Unlike most other peer specialist trainings, the Cascadia program incorporates mindfulness, compassion, and kindness, which Laitinen knew would be a good cultural fit. "I just knew that it would work very well here, because African culture is much more focused on the heart," Laitinen said.
Through discussions with Caughey, Laitinen decided it would be a good fit for the Streetscapes team to join the upcoming training cycle, which started in September 2021 and will end in March 2022.
This current training has been adapted slightly to accommodate the needs of the Cape Town trainees. The training is a college-level course and usually requires the students to write weekly essays. But to account for language barriers, the current training cycle doesn't include as much required writing.
 The participants usually meet for the trainings for two sessions a week, but to account for the nine-hour time difference between Cape Town and Portland, the Cape Town and Portland cohorts only meet together in real-time once a week. The Portland cohort meets separately for a second session, and the Cape Town cohort will watch back a recording of the Portland cohort's meeting to catch up.
Laitinen said that at first, she was worried that the trainings would be overwhelming, particularly because the time difference means the Cape Town trainees have to meet in the evenings.
"We were thinking, how is that going to work? You're going to be so tired, and your brain is going to be exhausted," Laitinen said. But in reality, she said the opposite has been true. "We find that it actually refreshes us, and we all feel good. There's something about that space where we all look forward to it."
This year's training began in late September and will last for two 10-week terms. In order to allow the Cape Town representatives to build up their workforce and train more peer specialists, two of the Cape Town trainees are also learning how to become trainers themselves. They'll complete their training by March 2022.
"So when all of this is over next March, Streetscapes will have two trainers and they'll have a workforce," Caughey said. "Those two trainers can design their own programs and do their own trainings, and train more people."
Laitinen said she's grateful for how welcoming Cascadia has been. "The way the Cascadia team has approached it, it made us feel welcome and almost like part of the family, rather than an NGO partnership," she said.
Caughey said she's been impressed with her students from both cohorts. "Everyone on both sides of the earth, they're motivated, they're getting along, they're focused," Caughey said. "This is our first time being international. This is an experiment, too, to see if this will work. I love it, and it's working really well."
While having students from another country has highlighted some cultural differences, Caughey said it's also highlighted the universal benefits of peer support.
"At the basis of it is the need for connection between people. People want to help each other. There's a natural drive for people to heal," Caughey said.  "All of these are very universal human things."