June 23, 2021
Cascadia Breaks Ground on Centennial Place Apartments, a New Affordable Housing Complex in East Portland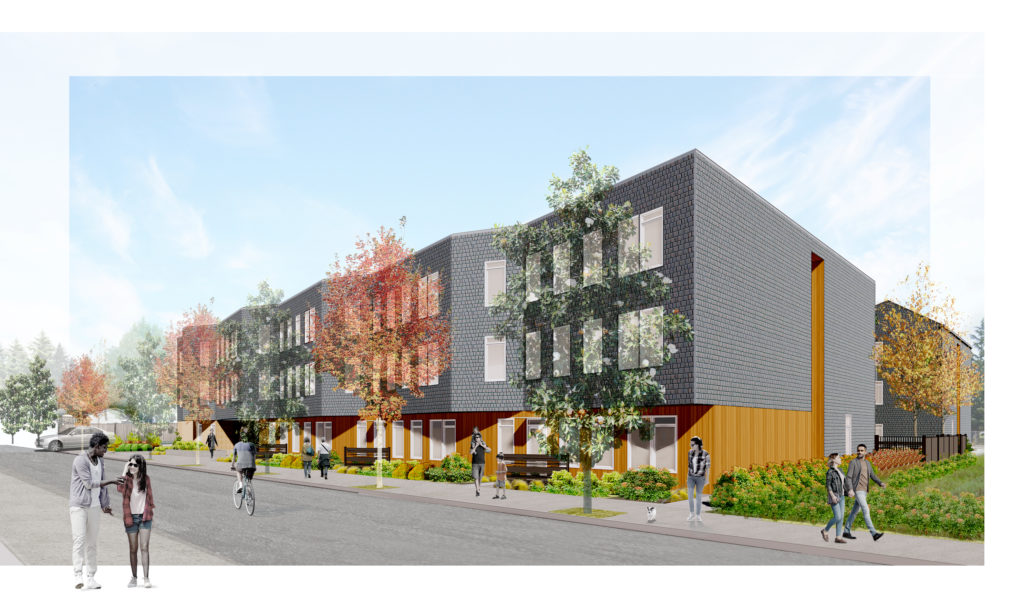 Cascadia has broken ground on its newest housing development, Centennial Place Apartments, which will bring 71 units of affordable housing to East Portland – a neighborhood in need of housing resources.
Centennial Place will be an inclusive community where people with disabilities will live as neighbors with others who may or may not be disabled. The development will build on the success of the Garlington Place Apartments (located at 3080 NE Martin Luther King Jr. Blvd.) which opened in April, 2019 with a similar tenant base.
Of the 71 units at Centennial Place, 15 units will be studios, 32 will be one-bedroom, and 24 will be two-bedrooms, with eighteen units set aside for people with mental illness. Cascadia's plans to have the remainder of the apartments take preference to low-income families with youth who are homeless or at risk of being homeless that are currently enrolled in the Centennial School District, and these units will be rented to households with less than 60% of the area median income.
Cascadia will employ a full-time community manager who will live onsite, along with a half-time resident service coordinator and a half-time peer wellness specialist both of whom will engage with residents to connect to community resources and promote a positive and welcoming culture within the building.
This project was made possible in collaboration with Colas Construction and Scott Edwards Architecture, and with support from other community partners including The Centennial Neighborhood Association and Centennial School District. Learn more about Centennial Place Apartments.