March 19, 2019
AmeriCorps Members Expand Cascadia's Mental Health First Aid Services
Last week, during AmeriCorps Week, we celebrate Jackie Moore and Lucia McArdle's service to Cascadia through AmeriCorps' Mental Health First AidTM (MHFA) Corps. Cascadia has been a MHFATM Corps Host Site through the Health 360 Healthy Minds Alliance since 2017. Through this program, AmeriCorps State and National members serve at Cascadia for ten months as MHFATM facilitators. Jackie and Lucia have been at Cascadia since September and will finish their service in early July.
MHFATM, created in 2001, is an eight-hour course that teaches participants how to identify, understand, and respond to signs of mental illness and substance use disorders. It is designed to teach adults how to either help youth or other adults experiencing a mental health or addictions challenge.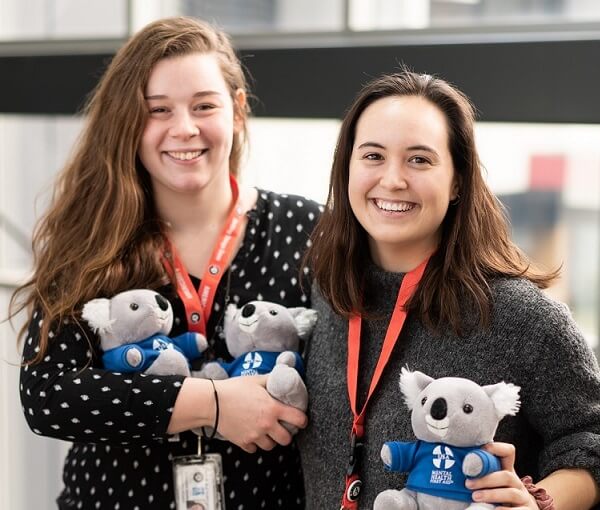 Since September, Jackie and Lucia have facilitated around a dozen trainings with Cascadia's other MHFATM facilitators. Through a pre, post, and 3-month post survey, they also collect data to maintain the efficacy and the evidence-based credentialing MHFATM training holds. Reaching out to various community organizations, both AmeriCorps members have also been working to grow and expand Cascadia's MHFATM reach. This is the first year Cascadia has offered Youth MHFATM. Lucia has been able to plan trainings for many community organizations, social service agencies, public schools, youth development programs, and county resources such as the public libraries.
After earning a Masters of Social Work, Jackie turned to AmeriCorps to serve the community before diving into her career. She wanted to experience somewhere other than her home state of New York. Serving as an AmeriCorps member at Cascadia has given her, "the opportunity to explore the professional setting and opened her up to the many opportunities and experience the West Coast has to offer," she says.
Interested in MHFATM, Lucia decided to join AmeriCorps to pursue her passion for prevention education and mental health promotion. Also from the East Coast, Lucia moved from Washington, D.C. before starting her service here at Cascadia. Through her experience, she has gained concrete professional skills. She says, "Whether I am learning to navigate a difficult group dynamic, bringing a more critical and trauma-informed lens to the material, or listening to dedicated special education teachers share stories, skills, and vulnerable lived experiences, my participants' engagement and contributions constantly push me to learn."
— written by Emma Hodges, Cascadia Behavioral Healthcare, Internal Communications