November 14, 2019
Winter is Coming: Help Prepare Individuals Experiencing Homelessness for the Cold Weather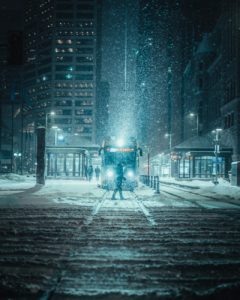 It's that time of year again – winter is coming in Portland and it's going to be a cold one. This year, we've already seen the coldest September day in Portland since 1934, and weather experts predict a heavy snow season which may see upwards of 10 inches of snow.
This brings about major concerns for those experiencing homelessness in our community. Of the over 4,000 individuals experiencing homelessness in the Portland metro area, roughly half are unsheltered, making them especially vulnerable to cold temperatures and inclement weather.
Cascadia's Street Outreach Team provides consistent and immediate response and support to individuals and families who are experiencing homelessness. Cascadia's outreach and response teams work directly with people living and sleeping on streets, park benches, concrete steps, tents and vehicles, many of whom may have mental health challenges. The team's core services include: mental health assessments, crisis care coordination, assistance navigating service systems, referrals into short term housing options, and help accessing mainstream benefits.
Living on the streets, especially without the proper attire and gear for cold weather, is dangerous and potentially life-threatening. This winter, Cascadia staff will work tirelessly across the City and in close partnership with emergency response systems to help individuals experiencing homelessness stay safe during severe winter weather.
But we need your help!
Outreach providers need winter gear they can pass out now, so those experiencing homelessness are prepared with the right resources when the first cold snap hits. Having the right gear staged in the right places before a crisis will help providers better focus on direct services and life-saving efforts in the moment.
Cascadia's Street Outreach Team is in need of winter clothes and materials to help those living on the street stay safe and warm. High priority items include:
Waterproof/resistant gloves or mittens (preferably dark colors/black)
Waterproof/resistant winter coats (adults, all sizes)
Sleeping bags and warm blankets (fleece/wool)
Waterproof/resistant hats (preferably dark colors/black)
Knit hats (preferably dark colors/black)
Tarps (preferably brown, dark colors)
Hand warmers
Cascadia is accepting walk in donations Monday – Friday from 8:30 a.m. – 5:00 p.m. at our administrative offices, located at 847 NE 19th Ave., Portland OR 97232. You can also donate online for the purchase of these supplies – our Amazon shopping list is also set up for your convenience.