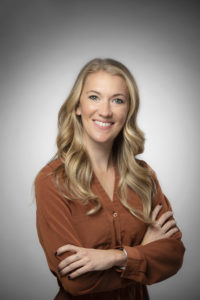 Jackie Thomson, MSW
Senior Director of Crisis Services
Jackie Thomson is Cascadia's Senior Director of Crisis Services. After earning her Master of Social Work degree from Eastern Washington University in 2013, Jackie worked in homeless services in Spokane, Washington, for six years. There, she provided direct support and oversight to grants intended to provide shelter and housing supports for those accessing homeless resources.
Jackie then made the decision to move to Portland, where she got the opportunity to join Cascadia and help develop the Shelter Behavioral Health Team. This team is tasked with bridging the gap between mental health and homeless services by providing shelters onsite mental health support with counselors and peer providers.
Once that program was up and running, Jackie became a co-manager of Cascadia's Project Respond, overseeing all programs under that branch. Jackie became Senior Director of Crisis Services in 2021. She now oversees all of the crisis response systems within Cascadia.