November 11, 2019
Cascadia is Offering $1,000 Sign-On Bonus for Residential Positions At Cascadia's residential centers, your work will make a real impact in our community.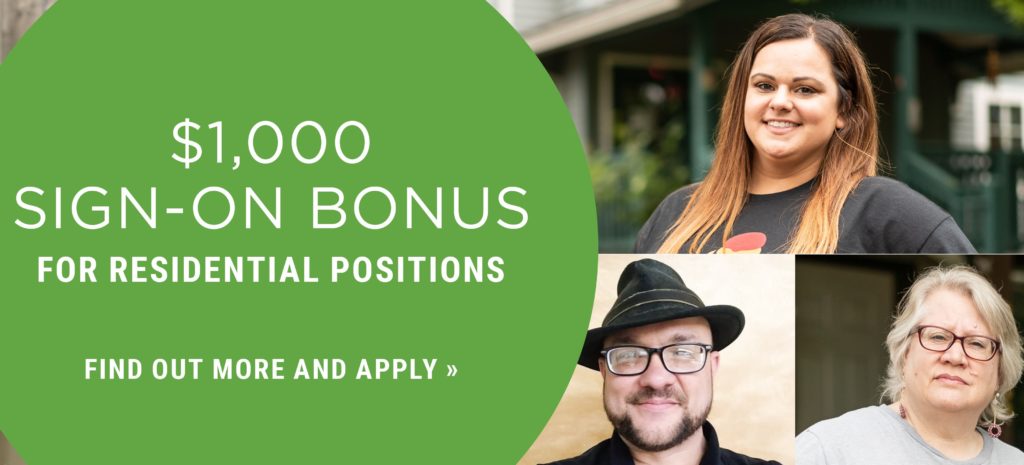 Job seekers – are you looking for an opportunity that will make a real impact in our community? Cascadia is offering $1,000 sign-on bonus for residential positions!
Other than on call, all of Cascadia's residential positions are providing a up to a $1000 sign on Bonus through 12/31/2019. Our programs are located at various sites in Portland and Portland Metro area; Clackamas, Multnomah and Washington county. These include Portland; NE, SE, NW, SW and East and Mid County; Gateway, Rockwood, Woodvillage, Gresham, Oregon City, Gladstone, and Wilsonville.
What positions are available?
Managers

Supervisors

Skill Trainers

Counselor III (Case Managers)

Treatment Specialist

Residential Counselors

Secure Treatment Specialist

Coordinators
What qualifications are you looking for?
Entry level – No Degree

Education in a behavioral or social science from an accredited college or university

Qualified Mental Health Associates

Qualified Mental Health Professionals

Caregivers, direct support professionals and CNAs 
What kind of experience is helpful to have in these programs?
Prior experience working/volunteer in mental health and/or SUD

Prior experience working in any residential program supporting those with other behavioral challenges or diagnoses

Prior program leadership experience

Prior experience in case management

Prior experience in medication administration

Prior experience using electronic medical or health record systems

Prior experience serving diverse populations and demonstrative ability to provide culturally appropriate services
What are some knowledge skills and abilities that help with this work?
Demonstrative ability to provide culturally appropriate interactions in working with our consumers and colleagues

Understand, appreciate, and respect diversity and cultural differences

Emotional IQ: Ability to effectively communicate and engage with others

Ability to be dependable

Respect client confidentiality

Knowledge of Trauma Informed Care
What makes this a good fit for me?
A desire to help others

A general understanding of cultural differences

Caring and compassionate

Patience and understanding

Dedication and commitment 
To learn more and apply, visit Cascadia's Careers Page.