October 29, 2021
Join Us for Coffee with Bob, Our Third Annual Bob Volke Art Event
This year's Bob Volke art event will begin on November 5.
Choose from a collection of 12 Bob Volke originals for your high-quality Dibond metal prints. Each purchase will receive a Starbucks gift card. Special thanks to the Volke Family and Willamette Print & Blueprint.
Bob smiled and thanked Ruby, as she topped off his coffee. He walked outside to his table and sat down. He was pondering how to finish up a painting he'd been working on to get it just right. "It's the eyes. It's always the eyes," he thought. Bob zipped up his coat a little and pulled the ever-present stocking cap down over his ears. Fall was in the air.
His dear friend Mary hustled by, stopping long enough to say hello. "Let's get coffee tomorrow, okay?"
"Let me check my schedule … yep, I'm clear" Bob joked.  
CW was heading in to get his coffee and called out. "Hey, Bob!  How's the mayor doing today?"  
Bob replied,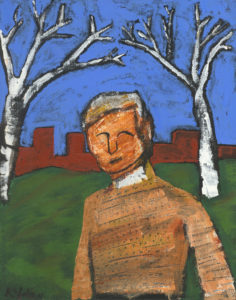 "The mayor is about to have a smoke" as he pulled his cigarettes and lighter from his pocket.
Patrick and Michael joined Bob with their beverages. Two of his closest friends, Bob trusted their opinions. Michael loved Bob's art and owned several pieces. Patrick was an artist himself and was planning to open his own gallery. Bob would ask them to look at the painting and ask about the eyes.
A student from the nearby art institute came up to the table to share some of her recent work. "You should sign up at the bank to show your work. You're ready" Bob told her.  
"Do you really think so?" she asked, thrilled but anxious.
"I know your first show is scary but these are really good."  
Patrick and Michael snickered — Bob had been scared to death at his first show!  Now he was mentoring others.  He'd come a long way.
Bob stood up suddenly and announced that he had to head home. A few farewell fist bumps and a short walk later, Bob sat down at his easel. He thought about the young artist and knew exactly how she was feeling.  
Bob also knew something else — his painting needed her eyes; her hope, excitement, fear, potential.  
Bob lit a cigarette and took a drink of his coffee to wash down his meds. He picked up his brush and started to paint.
Bob Volke experienced his schizophrenic break late in life. With support from Cascadia Behavioral Healthcare, Bob rediscovered his aptitude — and love — for art. Cascadia held Bob accountable for taking his medication and attending his therapy sessions. This structure was important for Bob in learning to live with his mental illness. But that's only part of his story.
In starting over, Bob reinvented his life through the friendships and connections he made at his neighborhood coffee shop. Bob's network of friends believed in him and helped him stay the course as he developed his technique and embraced his new life as an artist.
Bob's art was inspired by everyday life, as he saw it in his schizophrenic mind. This year's virtual event, 'Coffee With Bob', showcases 12 paintings depicting what he saw from his table at his local coffee shop. We hope you connect in some way with the art and with Bob's incredible story, and that you consider supporting Cascadia's community of caring. We also invite you to reflect on your own community and keep it strong by reaching out to your loved ones.  
You know, meet up for a cup of coffee, perhaps.
Coffee with Bob will run November 5-19. Purchase prints online to support our whole community at www.cascadiabhc.org/bob You can also view the originals in the windows of our community gallery at the Garlington Place Apartments, 3080 NE Martin Luther King Jr. Blvd.