Cascadia Behavioral Healthcare Announces $500,000 Fundraising Challenge Match from FamilyCare Health in Support of Cascadia's Capital Campaign for New Community Healthcare Clinic
FamilyCare Health's fundraising challenge supports Cascadia's Building a Culture of Caring capital campaign to establish the Garlington Health & Wellness Center, a new clinic offering integrated mental health, addiction treatment, primary care, wellness services and retail pharmacy in NE Portland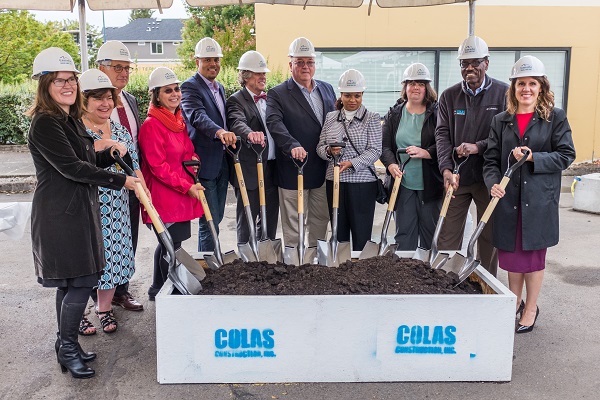 Cascadia Behavioral Healthcare CEO, Derald Walker announced FamilyCare Health's $500,000 fundraising challenge in support of Cascadia's $3.5 million capital campaign to establish the Garlington Health & Wellness Center – a new integrated healthcare clinic offering onsite mental health, addiction treatment, primary care and wellness services. FamilyCare Health Founder and CEO, Jeff Heatherington made the $500,000 commitment on September 23, 2106 at Cascadia's Community Groundbreaking Celebration event to kick-off the upcoming 2017 construction start of the clinic.
The groundbreaking was held at Cascadia's current Garlington Center location on NE Martin Luther King Jr., Blvd. in NE Portland's Eliot Neighborhood. While the new clinic will anchor the 1.5 acre property, Cascadia will also build onsite, a 52-unit affordable housing apartment building available to Cascadia clients, Veterans and displaced N/NE Portland residents.
At the groundbreaking event, Derald Walker and Jeff Heatherington were joined by Multnomah County Chair Deborah Kafoury, Tina Garlington Washington, Portland Mayor Charlie Hales, Andrew and Hermann Colas of Colas Construction, Cascadia client, Lisa McCelellan from SEA Architects, Robin Boyce of Housing Development Center and Robin Henderson of Providence Medical Group.
The announcement of this new fundraising challenge brings FamilyCare Health's total gift commitment to $1 million in support of Cascadia's capital campaign. FamilyCare Health made a $500,000 lead gift to Cascadia in December 2015 to launch the nonprofit's first capital endeavor.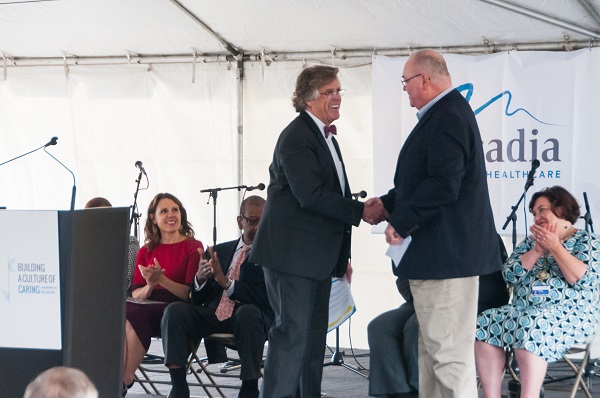 FamilyCare Health's fundraising challenge will match dollar-for-dollar all donations (new and increased gifts) from individuals and corporations in support of Cascadia's capital campaign, now through December 2017. Cascadia plans to open the new clinic spring of 2018.
"Jeff's dedication to improving Oregonian's access to whole healthcare services is exceptional. FamilyCare Health's support of our capital campaign is extraordinary, and it will inspire others to take an active lead in helping address our community's most pressing issues around improving and increasing access to affordable health and housing for all Oregonians," said Derald Walker, CEO.
"Supporting Oregonian's whole health through innovative solutions like the Garlington Health & Wellness Center is at the heart of what FamilyCare Health is all about and we are pleased to help fund this important project. Through this $500,000 challenge grant, we are asking other local organizations to help support Cascadia Behavioral Health's bold vision," shared Jeff Heatherington, FamilyCare Health CEO.
"This is a landmark gift for Cascadia and for Portland. FamilyCare Health's leadership support and fundraising challenge to the community will be a major boon in our capital campaign efforts to bring our community together to help establish an innovative community centered campus where healing, homes and hope come together. Our new campus will be one of its kind in Oregon when we open in the spring of 2018," added Walker.
About Cascadia's Capital Campaign
Dedicated to improving the quality of life for all Oregonians, Cascadia has embarked on the capital redevelopment of its Garlington Center clinic located in NE Portland, a 1.5 acre site. The redevelopment will establish a new center for integrated mental health, addiction treatment, primary care, wellness programs and services including a pharmacy for community members. Building a Culture of Caring is Cascadia's $3.5 million philanthropic campaign to establish the new Garlington Health & Wellness Center.
The campaign is supported by the Cascadia Behavioral Healthcare Board of Directors with 100% participation and a growing circle of individual donors, foundations and corporate supporters, with gifts and pledges year to date at $1.9 million. The building effort is also made possible by a $1 million property/land donation from the Glazer family.
Cascadia's redevelopment plans of the site also includes a new 4-story, 52-unit apartment building – offering affordable housing for Cascadia clients, Veterans and displaced North and NE Portland community members. This new campus is located in the Eliot Neighborhood – in the heart of the historic Albina district at 3034 NE Martin Luther King Junior Boulevard in Portland. The center is named in honor of the late Rev. Dr. John W. Garlington, Jr., a prominent leader and advocate for the African American community in Portland during the late 1970s and early 1980s.
About Cascadia Behavioral Healthcare:
Cascadia Behavioral Healthcare is a private, not-for-profit, whose mission is to provide healing, homes and hope for people living with mental health and addiction challenges. For information about Cascadia's comprehensive range of innovative clinical and housing support programs, visit: cascadiabhc.org
About FamilyCare Health:
For 30+ years, FamilyCare Health has been providing patient-centered health care to Oregonians. With over 130,000 members, FamilyCare Health is a Medicare and Medicaid managed care organization providing health plan services in Multnomah, Clackamas, Washington and some parts of Marion and Clatsop counties. FamilyCare Health was the first health plan in Oregon to integrate models of physical and mental health. It was the first Coordinated Care Organization in the tri-county area certified by the Oregon Health Authority. More information at www.familycareinc.org
Additional Information:
Cascadia is hosing its inaugural gala Bridging a Culture of Caring on Thursday, April 6, 2017 in North Portland. The event will raise funds in support of Cascadia's capital campaign to establish the new Garlington Health & Wellness Center. Click here for sponsorship and ticket inquiries.
VIDEO: Legacy of Rev. Garlington | "A moral force in Oregon"
HISTORY of Garlington Center: Garlington Center History
GIVING TO THE CAMPAIGN: Giving to Cascaida
Media Contacts:
Cascadia – Samantha Ridderbusch, 503-403-8117
FamilyCare Health – Jack Coleman, 503-734-3109