March 25, 2022
Cascadia Library Crisis Team Highlighted by KOIN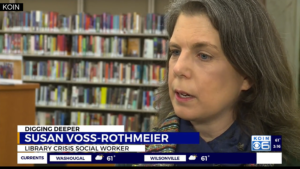 Cascadia's Library Crisis Team, a program made up of two Cascadia social workers contracted with Multnomah County Library, was recently featured in a story by KOIN 6 News. The Library Crisis Team is part of Cascadia's Project Respond, and it provides outreach, engagement, and crisis response to library patrons, as well as education and consultation to library staff.
KOIN highlighted the program as a model for other programs nationwide, since more and more library systems have begun focusing on providing mental health services to patrons.
This service began in January 2016. The social workers, called community resource counselors, connect library patrons to services or offer a listening ear when needed. Much of the work of the team is done at the Central Library in downtown Portland, but the counselors provide services at all Multnomah County Library branches.
The community resource counselors offer referrals to mental health agencies, information about shelters and homeless services, lists of low-cost housing developers or housing assistance providers, connection to medical or addiction treatment clinics, and a variety of other resources. The resource counselors also maintain the Community Resource Center at the Central Library, where patrons can pick up information sheets on services.
The counselors have developed ongoing relationships with many library patrons who frequent the Central Library. Being onsite at the library means the counselors can meet people where they are and provide support as they navigate finding services and resources in the community.
In 2021, the Library Crisis Team served 454 clients, and the team expects these numbers to return to pre-pandemic levels (about 1,200 a year) in 2022. Among clients served by the program in 2020, 43% were houseless, 11% were housed, and 46% were unknown.
Thank you to the Library Crisis Team for serving our community with much-needed services, and for serving as a model for library-based mental health services. Learn more about the program here!
Project Respond
The Library Crisis Team is one aspect of the Cascadia Project Respond crisis response system. Overall, Library Crisis Services make up about 4% of Project Respond's crisis services overall. The Project Respond crisis team is made up of:
Mobile Crisis Team
Emergency Department Liaison
Family Crisis Stabilization Specialists
Peer Wellness Specialist
Shelter Behavioral Health Team
Library Crisis Team
Learn more about Project Respond here.