June 6, 2019
New Arbor Place Raised Garden Beds Offer Opportunity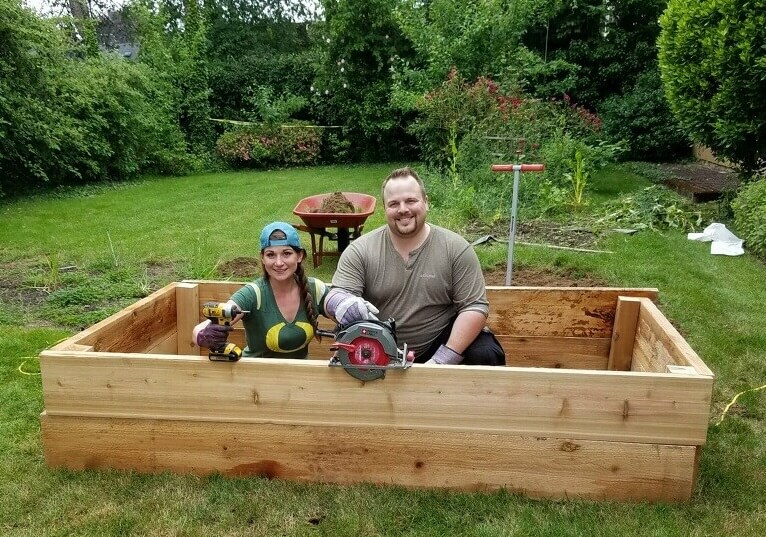 For many years the staff at Arbor Place have tried to have a facility garden – tilling plots above their garage and supplementing the soil with conditioner – but the garden was not producing much food. Now thanks to the hard work of Erin Mercer, a Cascadia Skills Trainer, and the generous gifts of Parr Lumber, Oregon Restoration Company, and Al's Garden Center, the clients and staff at Arbor Place hope to have a fruitful garden for many years to come, in new raised beds.
Located in the Irvington neighborhood, Arbor Place is one of Cascadia's three Secure Residential Treatment Facilities (SRTF) and serves up to 16 individuals at a time who have a severe mental illness and a history of institutionalization. With a strong emphasis on community reintegration, the program prepares individuals for more independence through therapy, skills-building groups, dual-diagnosis treatment, nutrition and exercise, vocational training, and staff-escorted community outings.
Erin, who works at all of Cascadia's SRFTs, was motivated through the success of the other SRFT's gardens. Offering many opportunities for clients to build skills, gardens provide a space for activity therapy groups and produce fresh and healthy food that can be utilized by nutrition services. Just last year, staff and clients at Faulkner Place were able to use the produce from their garden to make salsa, caprese skewers, and lavender soap.
Over the last few weeks she has built Arbor Places' new raised beds with cedar from Parr Lumber and the help of a volunteer from Oregon Restoration Company (ORC), fill them with the soil donated from ORC, and helped clients pick out and plant starts, donated by Al's Garden Center.
With the help of our community, Erin said she is excited to provide a "healing and relaxing environment for clients to discover or rediscover a love for nature, accomplishment, and self-care."
— written by Emma Hodges, Cascadia Behavioral Healthcare, Internal Communications Specialist