September 30, 2020
Voices in Recovery: Dustin, Counselor at Cascadia
Originally published in Street Roots on October 26, 2018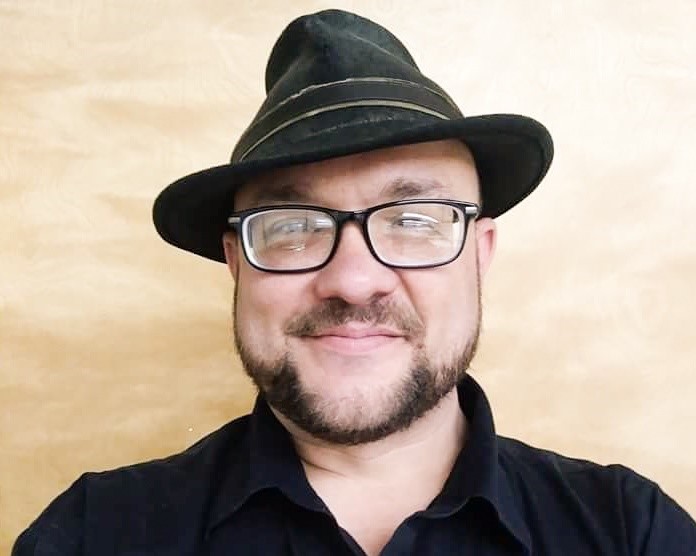 I was beaten and threatened with death by my mother as a child. I've attempted suicide twice. One drunken night, I drove 80 mph down Interstate 84 with my eyes closed. I shot methamphetamine in my arm and almost had a stroke. I'm not sure how I survived.
More than that, I'm not sure how I succeeded.
In spite of setbacks, I graduated from college with honors and have a career in social work. I helped reunite families torn apart by addiction. I taught abused children to express their pain without violence and how to take control of their own therapy. I served meals to men who were hospitalized for committing crimes while in a psychotic state. I advocated immediate housing for women experiencing homelessness.
To the best of my ability, I help others heal and experience a measure of healing in the process myself.
In the summer of '89, a social worker took me to a sunny park in Peoria, Ill. – 20 miles away from danger. She joined me on the playground equipment. She smiled every time I looked at her. And she had glasses just like mine.
Working with survivors of trauma requires awareness of posture, tone, eye contact and setting. The social worker who saved my life took me to a neutral place, far from the threat of violence at home. She met me on my level by playing with me. When we started talking about the abuse, she leaned toward me, maintained eye contact and kept her arms uncrossed. As a result, I knew I was safe and she cared.
Change, however, cannot be mandated. When I opened up to the social worker, it wasn't because she demanded I do so. I told her about the cuts and bruises because I had reached a crisis point, and I was ready.
I have been mandated by the criminal justice system to pursue sobriety twice. As a teen, I was sentenced to Theft Talk for stealing. I dutifully followed all the requirements. I made the court believe I was reformed. Then I went back to using and committing crime. The crisis point had come but I was not internally motivated to change.
In 2013, I was convicted of First degree burglary and sentenced to START Court (Success Through Accountability, Restitution, and Treatment), an intensive probation program. Probation included comprehensive services, drug-free housing, intensive addiction counseling, a probation officer trained in mental health services and weekly court hearings. Every Wednesday, my probation officer, a certified addiction counselor, my defense attorney and I reported my progress and challenges. We all had equal say. START is restorative justice, rather than merely punitive.
In addition to a community aware of my needs, I had the internal motivation to change. For the first time in my life, I am in recovery for myself. I've been sober more than a year because I have people who understand what I need to recover and I possess the conviction that I am worth it.
As a result, I am now able to make significant contributions to our community. I manage the personal finances of people with disabilities. I helped revive a dying library and updated their collection. I'm a volunteer board member for five neighborhood health clinics. And over the summer, I organized the donation and delivery of clean drinking water to the Occupy ICE protest and a tiny-house initiative for people living outside.
Goals, however, are relative. One person's mile may be another person's marathon. The achievement is no less significant because of the distance run. As a mental health provider, I helped a person with significant brain damage and psychosis start administering their own medication. For weeks, this person looked at their prescriptions and recited the names, dosages and times of administration. I provided fill-in-the blank worksheets for another few weeks. After three months, this person was safely and independently taking their own medications.
Another client came to us after overdosing on heroin. They had been clinically dead for two minutes. A year later, this person was on the phone with then-Mayor Vera Katz's office, asking what the city was doing for women in recovery. This person took classes in radiology and sculpture while raising a 3-year-old. Also, this person joined the student council and founded a program for women in recovery transitioning to college.
I am honored to have witnessed these people's success. I am certain they both put in the same amount of effort and were better off for doing so. Their results are equally impressive.
In addition to competent helpers and internal motivation, my own journey was easier than others' simply because of my race, class and gender.
"Despite comprising less than 13 percent of the U.S. population, African-Americans comprise 40 percent of those who are incarcerated, and young African-American men have a 1 in 3 chance of being incarcerated at some point during their life," according to a 2012 report from The Sentencing Project. Also, sentences for black men are nearly 20 percent longer than those of white men for similar crimes, according to the U.S. Sentencing Commission. So, while I was released to drug court, my peers of color were less likely to receive the same opportunity.
Nearly half of homeless women surveyed in Portland in 2015 reported having been victims of domestic violence. Women living outside are often caught in the oppressive cycle of violence perpetrated by abusive partners. By contrast, I had the liberty to safely leave the streets when I chose to do so. Furthermore, I am college-educated and well-spoken. My arrest record has never been a barrier to employment. I present myself to potential employers with ease and charm. In addition, my status as a graduate of higher education automatically affords me candidacy for better jobs.
So, people who are homeless cannot be lumped together by simple generalizations like "they choose to be homeless" or "they're all just getting high." From barriers of race, class and gender to physical or cognitive ability, each person is fighting a battle you know nothing about.
Try meeting someone living in the park.
Start where they are instead of making assumptions.
Open yourself to their struggle.
Ask questions.
Listen.
+++
Dustin moved to Portland at age 10 to escape an abusive home. By age 14, he developed major depression and post-traumatic stress disorder that went undiagnosed for years. He sought escape through drugs and alcohol, eventually ending up in and out of jail and homelessness. He also managed to get his GED, graduate college and work in mental health for eight years. He now serves as a counselor at Cascadia.