September 20, 2019
Voices in Recovery, September is National Recovery Month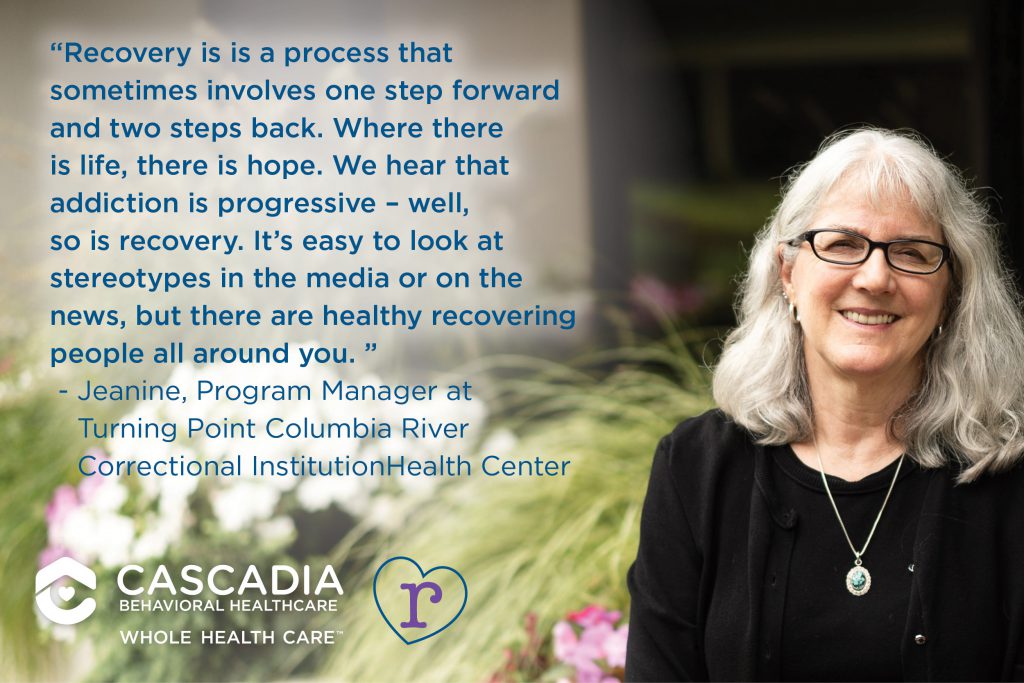 September is National Recovery Month. Across the country, people in recovery are celebrating their successes and sharing them with others in an effort to educate the public about treatment, how it works, for whom, and why. Cascadians are sharing their personal stories of recovery in hope that it will inspire and encourage others. Together we are stronger, and can create a #wholecommunity.
Jeanine
I am the Program Manager at Turning Point Columbia River Correctional Institution.
I grew up in an alcoholic home. My dad stopped drinking when I was in the 7th grade, and a year later I picked up the baton of the family illness, taking my first drink at a party for our 8th grade graduation. I drank and smoked pot through high school and a short-lived marriage. I'm a product of my generation, which meant cocaine and discos, and then "better living through chemistry" when I was introduced to a guy who'd just gotten out of prison for the manufacture of a controlled substance (methamphetamine). Fortunately, that chapter of my life only lasted a couple of years before an ex and a family member intervened to get me in to treatment in January of 1986.
At the time, I would've told you that I was railroaded in to treatment, but there was a tiny part of me that knew life could be different than the hell I'd been living. I was scared – I had no real frame of reference for a clean and sober life. Then, in treatment, I met people who were just like me – counselors and peers – people who understood what it was like to be desperate for a fix, willing to set aside everyone they loved in pursuit of the next high. Understanding that I was not alone gave me hope that maybe I could stay clean too.
My early role models in recovery were the treatment counselors at Serenity by the Sea, in Seaside. Their individual stories were examples of "been there, done that." I followed treatment by throwing myself into the recovery community, where the old-timers said "Keep coming back!" and there they were, week after week – not just saying it, but living the principles of recovery themselves.
When I sat in various groups in treatment, and heard my peers tell their truth for perhaps the first time ever, I thought, "I want to be a part of that." A couple of years later, I stared my education towards becoming a CADC, knowing that my life experience gave me a perspective that could be beneficial to those seeking recovery. I see this work as a calling. I've never "saved" anyone, but being able to relate has helped me connect with clients over the years, whether that was with adolescents, adults, those in medication-support treatment, and here at the men's prison. Most of the clients we work with at Turning Point know that I'm in long-term recovery, and they tell me that it helps them feel like they aren't being judged.
My advice for someone early in recovery is to find a support group that works for you (12-step, faith-based, secular, etc.). It was very important for me to realize that I didn't have to do this alone – that there were other people who felt like I did, and who's experience I could learn from.
What I would like people to realize about recovery is that it is a process that sometimes involves one step forward and two steps back. Where there is life, there is hope. We hear that addiction is progressive – well, so is recovery. It can be tempting to look at stereotypes as portrayed in the media or on the news, but there are healthy recovering people all around you.