March 2, 2022
Cascadia Courage & Compassion Awards: Amy Driscoll, Program Manager at David's Harp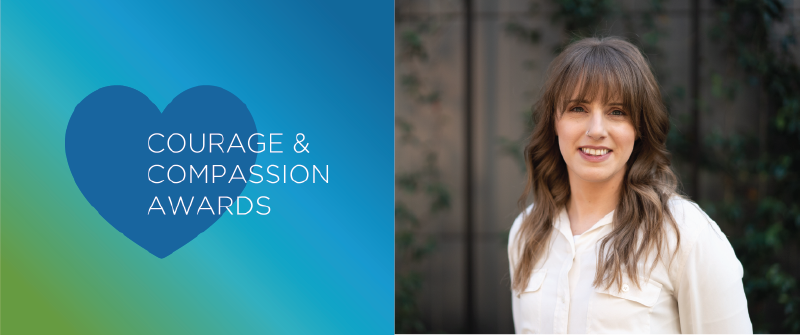 In celebration of our individual and collective resilience, creativity, and service, six outstanding individuals were chosen to receive a Courage & Compassion award from Cascadia. This honor is intended to recognize those coworkers whose superpowers were a source of strength and hope in the last two years. The recipients of the award were selected via an open nomination process and an independent review by a number of our peers from across the organization. It was a competitive process, and it demonstrated how extraordinary Cascadians truly are.
Amy Driscoll
Amy has demonstrated incredible courage throughout the pandemic, taking on more leadership responsibilities and developing new programs. She is not afraid to step into the unknown and try something new if she thinks it will help the individuals that we serve.
— Jennifer Wilcox, Clinical Director
"When I think of courage in this work, even in non-pandemic times, I think about how we're all trying to work within these larger systems that aren't functioning well, that have a lack of resources," says Amy Driscoll, music therapist and program manager at David's Harp. "So I think courage has this component of flexibility and creativity. Like, how can we make something that works with what we have?" Amy pauses briefly as she finishes this thought, like she's editing something in her mind. "Actually," she continues, "how can we make something better?"
Amy has been with Cascadia since 2014, so it's not surprising that she has passionate, sincere, and insightful thoughts about how to bring a flexible and creative kind of courage into her work. In her work, she's able to connect clients with the incredible therapeutic process of judgement-free music making.
So what happens when a program so defined by the close connections between clients and staff goes up against a global pandemic, removing the option to meet in person and connect?
"Thinking back to when we first shut down in-person programs," Amy says, "it was really challenging for the clients. And, really, for myself too. Music is how we process these situations, so we lost a coping tool."
But with Amy at the helm of music therapy for David's Harp clients, that tool was not lost for long. If courage is demonstrating creativity and flexibility in the face of adversity, then Amy became the face of courage itself.
"We dove really heavily into songwriting, which was one thing we could do from a distance, without other ways to connect." But right at the start of the closures due to COVID-19, telehealth was not yet an option.
Amy was undeterred, though. "We'd do brainstorming over the phone, talk about ideas, figure out melodies and lyrics. Then when we decided the project was finished, I would record it onto a CD and mail it to them. I think it was nice to have something come in the mail to open."
When virtual meeting options became available (which Amy had a huge part in making accessible to clients), Amy leaned even more into making the best of an unprecedented situation. "We used a program called Soundtrack in virtual groups of a few clients at a time. You can make music and write song using samples, and it's so accessible to use."
Clinical Director Jennifer Wilcox sees this dedication to bringing people together in spite of countless obstacles as evidence of the sense of interconnectedness Amy brings to Cascadia.
"One of the great things about the Harp is the community that is formed by the participants," Jennifer says. "Knowing that they were missing each other, Amy continually tried to find ways to help them reconnect in ways that were safe and meaningful."
Her efforts got David's Harp clients and staff through the toughest hump of the pandemic. Over the last few months, David's Harp has been able to start incorporating in-person meetups again.
Amy's voice is affectionate when she talks about clients coming back onsite at David's Harp. "Thinking about that feeling on the first day back, people seeing friends that they hadn't seen in a year. It was the most emotional moment I can think of during the pandemic."
Amy hasn't been occupied solely with music therapy-based work, either: As the pandemic raged on, her eye moved toward the community garden on the David's Harp property, whose primary community organizer stepped away from maintaining it. Amy set to work with grant money that paid for gardening supplies, recruited volunteers from the community, and created a plan to grow as much produce as possible.
"The garden is another example of interconnectedness," Jennifer shares. "A large and diverse group of individuals were able to work together to grow an incredible amount of food to share with those in need. This has been a huge benefit to our Cascadia community as well as the larger community through the food bank."
The new community gardening program has big plans moving forward, including a community event with a hopeful date this summer. "Since it would be outdoors, we should be able to gather safely, open up the garden space to more of the community, and if clients want to participate, they can show off this garden space that they've worked so hard in."
Amy's ability to thrive under the pressure of the moment and serve the clients at David's Harp while also keeping a bright and optimistic eye to the future is one of many reasons she was nominated and selected for this Courage & Compassion award.
Jennifer sees Amy's compassion as her distinct fingerprint: "Amy is a shining example of compassion in all that she does. She has strong compassion for the individuals we serve and uses that to advocate for their needs. In addition, she fosters compassion among the staff and participants of David's Harp."
For Amy, it seems that it's the only way it ever occurred for her to be. "We honor everyone for being there, for being who they are, for showing up for one another," she says. "Compassion is seeing the full humanity in everyone."
The 2022 Courage and Compassion Award recipients are: 
Amy Driscoll, Program Manager, David's Harp
Daren Mitchell, Treatment Specialist II, Orchid House
Janis Cleveland, Director of Nursing
Mick Nesmith, Senior Director of Primary Care, and Robert Snyder, Nurse Manager
Jeanne Bohenek, Peer Wellness Specialist, Woodland Park
Throughout the month of March, we will share the stories of these astounding individuals, culminating in a virtual celebration of Courage & Compassion recipients on Thursday, March 31 at noon. We would love for everyone who is able to join us.