March 8, 2022
Courage & Compassion Awards: Janis Cleveland, Nursing Services Director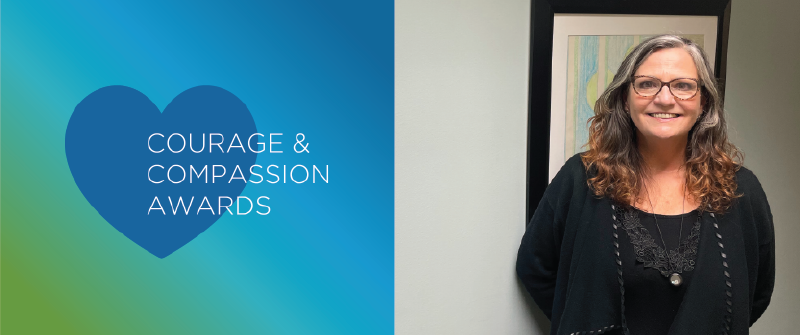 In celebration of our individual and collective resilience, creativity, and service, six outstanding individuals were chosen to receive a Courage & Compassion award from Cascadia. This honor is intended to recognize those coworkers whose superpowers were a source of strength and hope in the last two years. The recipients of the award were selected via an open nomination process and an independent review by a number of our peers from across the organization. It was a competitive process, and it demonstrated how extraordinary Cascadians truly are.
Janis Cleveland
"Janis has supported all of Cascadia—outpatient, residential, primary care—because she understands the holistic nature of our work and the system-wide need for care and compassion. Her work on the COVID response team has directly helped the whole community by offering services, as well as the impact on the community by providing care and compassion for CBH employees and clients." 
— Ted Amann, Registered Nurse
"I'm a nurse because I love to serve and because I love people," Nursing Services Director Janis Cleveland says early on in a conversation about her response to being chosen for a Courage & Compassion award. "To be recognized for that is—it's almost difficult to take in. I'm very. . .humbly honored."
At first, the way her voice trails gives the impression she's focused on accuracy, finding the perfect words. In that beat of silence, though, Janis gives herself up: "Oh, I'm about to—I'm tearing up now!"
She says it with warmth and good humor and a contagious kind of enthusiasm. Which, unsurprisingly, are the same qualities that sum up the more than 15 years that Janis has spent at Cascadia. Apart from a mountain of experience in and a natural proclivity for psychiatric nursing, she brings unfailing reverence to her work as Director of Nursing Services.
That reverence seems to be one of the hallmarks of Janis' work life. When, years back, she struggled with chronic illness, her natural reaction was curiosity about the medical puzzle that she was figuring out to piece together her life.
"I spent so much time talking to doctors and nurses because of my health struggles, asking different questions," she says. "The nurses that changed my life knew that knowledge was power, they brought me things to read, they helped me be informed."
As it turns out, the experience of illness projected Janis' compassion outward and set her on a path for her medical career.
Before long, nursing school was a given, psychiatric nursing revealed itself as a calling, and Janis became a passionate advocate for trauma-informed care (having studied and trained with leading experts on the subject) in community health.
"I didn't even know about community mental health until a while after working at Salem Memorial Hospital, when Maggie (Bennington-Davis, former Cascadia Chief Medical Officer) moved to Cascadia," Janis explains. "Immediately it was like, 'This is where I want to live!' Working with Maggie is where I cut my teeth and built my belief system as a practitioner: Medical and mental health, that whole health model, all matters to each other. I want to be a part of bringing that together and walking with people through their journeys of wellness."
Clearly, Janis is succeeding on that front.
Ted Amann, a registered nurse and part of Janis' team, shares, "Janis has supported all of Cascadia—outpatient, residential, primary care—because she understands the holistic nature of our work and the system-wide need for care and compassion. Her work on the COVID Response Team has directly helped the whole community by offering services, as well as the impact on the community by providing care and compassion for CBH employees and clients."
That COVID response work has been the bedrock of Janis' job for the past two years.
"I love to problem-solve, and there have been constant challenges. There's a whole other level of needs with COVID testing and vaccine clinics and everything, and there's also a lot of anxiety management—everyone is kind of traumatized, and we're helping them work through how scary this all is," Janis says.
For Janis, though, while the last two years have been a challenge, it's not entirely new territory given the regular cycle of challenge and change Cascadia nursing has experienced since she started in 2006.
"That's where the courage comes in: I accepted this challenge, and I'm staying. There's no easy way, but the fact that we've been able to keep nursing services running while doing all this COVID response work during a national nursing shortage is absolutely incredible," she says.
And considering a vast amount of COVID response work has been done by a miniscule team, Janis is not exaggerating when she celebrates the successes of managing the pandemic at Cascadia.
"The work we've done in COVID response is huge. Mick (Nesmith, Cascadia Senior Director of Primary Care) is a visionary and her leadership has been amazing. We couldn't have done it without her. She just sees what needs to be done and it's like, you just tell me what to do, and I'm there," she says. For Janis, that meant building policies and workflows, performing testing, arranging vaccine clinics, conducting tireless research for her team, and serving on the front lines for the nursing staff as the nurse on call and swing shift nurse.
"The way I see it, I wouldn't ask my staff to do anything that I wouldn't do myself," Janis explains. "If there's anything I can do with my skillset, I'm going to do it."
That includes advocating for higher nursing wages. Up until late in 2021, Cascadia was unable to offer wages for nurses that could compete with what RNs could earn at area hospitals. Many factors coalesced to give nurses a wage increase a few months back, and Janis' proclivity for patient but persistent advocacy for her team played an enormous role. For Ted, that's an integral part of the "positive work culture" that Janis has managed to build.
The fact that she could help her staff means the world to Janis, and she's quick to turn her successes into a group effort.
"I couldn't have done any of this without Neil's (Dr. Neil Falk, Cascadia's Associate Medical Director) support over the last 15 years," Janis shares. "For many years it was just Neil and I as the medical team, just figuring it out. It was a mom and pop operation. And he's always the one to talk me through everything. He's a rock, and I simply would not have made it this long without his support–he's simply the best boss ever."
This gets Janis jazzed about talking more about her colleagues. She moves her hands emphatically through the air in front of her when she talks about the staff at Cascadia, communicating clearly that what she has to say about them is urgent and important to understand. "This current team of RNs never wavered when the pandemic hit and have just pushed through so many challenges. I could not be more proud of my managers and RNs."
The gratitude she has for her colleagues is at least part of her enthusiasm for the future. Janis is excited to the point of giddiness about Cascadia's progress toward integrated health care, and she knows her team is up to the challenge.
"We're getting really good at starting to address all the pieces of the individual," she said. "I'm looking forward to that path toward truly whole health care; it excites me to no end because it's been a dream for so long."
On her way out of Cascadia's Administration building, Janis stops to grab a piece of mail addressed to her. Reading it, her expression turns emotional. "It's a card, one of my nurses wanted to thank me." She doesn't tear up, but that she was moved is undeniable. "I just—who does that? These are the incredible people I work with. My heart is three sizes bigger."
The 2022 Courage and Compassion Award recipients are: 
Amy Driscoll, Program Manager, David's Harp
Daren Mitchell, Treatment Specialist II, Orchid House
Janis Cleveland, Director of Nursing
Mick Nesmith, Senior Director of Primary Care, and Robert Snyder, Nurse Manager
Jeanne-Marie Bohenek, Peer Wellness Specialist, Woodland Park
Throughout the month of March, we will share the stories of these astounding individuals, culminating in a virtual celebration of Courage & Compassion recipients on Thursday, March 31 at noon. We would love for everyone who is able to join us.